Rent my Farmhouse in Tuscany
North of Florence, near Scarperia

{map}
We host a spacious farmhouse full home rental for you in one of the most beautiful, relaxing locations in the world!
The GeoCodes are Lat. 44.035506 and Long.11.379374
North of Florence, the views, hospitality and activities are spectacular.
Water sports are available at Lake Bilancino, But we have added a swimming pool quite close to the villa.
Enjoy our villa where you can relax and plan the next day's activities. This setting is ideal for your honeymoon, for a romantic getaway, or for relaxation in tranquility with friends or family. Our photos can only hint at the comfort and enjoyment that are available.
...In the heart of the Mugello valley it's a perfect location for exploring the region of Tuscany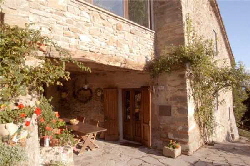 and only 33km (20 miles) north of the magic of Florence, with good train and bus service available.
We have what you need at prices you can afford. At Janilee's Tuscan Villa -- Home Rental, our goal is to provide you with courteous, expedient, professional service of the highest caliber.
Organic: We produce our own olive oil, jam, honey, limocello (lemon liquor) and fresh vegetables from our garden; we serve good local red wine..
Browse our Web site for more information about Janilee's Tuscan Villa -- Home Rental. If you have any questions or would like to speak with Janilee Jones, please e-mail us at Janileejones@hotmail.com or call us at 011-39-055-8430872.
At Janilee's Tuscan Villa -- Home Rental, your enjoyment comes first.